This page will develop over time, just going to get some info up for now and rearrange and add as I go.
PDF Files below contain pinouts for the ECM and Fuseblock connector, with highlights and notes on as much as I could. This won't be a step by step, hold your hand approach. You must poses a decent understanding of EFI wiring and GM wiring to do this. Stuff changes year by year, even model to model. The complexity is increasing with each engine family. This harness is going to be used on my personal vehicle, and I chose not to take apart the entire harness and remove every wire. I only unwrapped enough to depin from the ECM and the different connectors that hooked it to the original donor vehicle.
2015 L83 ECM X1 PINOUTS This will locate wires needed for external connection as well as those that CAN be removed if you want to clean things up.
2015 L83 ECM X2 PINOUTS same as above
2015 L83 ECM X3 PINOUTS same as above
2015 L83 Standalone This locate all wires needed from X2 Underhood, X105, X111, X115, X125 connectors to convert harness for stand alone, add fuse block, obd2 port.
2015 L83 FuseBlock Connector X2 Pinouts - shows all pins on X2 Underhood connector, even those not needed.
click on the picture to load high resolution version. This is a 2015 5.3L L83 6L80E Pickup Harness.
As I was working on this, I bought a subscription to www.acdelcotds.com for 3 day access to service information. It's only $20 and can give you specific schematics for the year and model you are working on. There are small changes in the harnesses between SUV and Pickup, and depending on transfer case option, and of course year. The best approach I can suggest to modifying this harness for stand alone is to identify all your wires at the ECM. The pinouts at the ECM will be the most consistent. The wires that power coils, o2 sensors, will need found, I can tell you all the wires you NEED, and you'll just have to find them with a multi-meter. Grab the L83 Harness Standalone PDF to help.
So unwrap the harness to all the ECM connectors, X105, X111, X115, X125 and the X2 Underhood connectors. Label them as you go for reference. Any wire you cut you should label, I suggest label by function, and where you cut it from. You won't physically need the X2 Underhood, X105, X111, X115, X125 connectors when its all done, but these connectors contain all the wires you will need to hook up to a new fuse block, run to your gas pedal, diagnostic port, control a fan, fuel pump, so on.
Pins highlighted in yellow at the ECM have been removed and pulled back. I've identified all the wires that need power, go to gas pedal, obd2 port, and other useful wires and grouped them together. Other wires I won't need, like for transfer case, evap emissions, battery current sensor, are also grouped together.
If you compare this picture to the before one above, you can see the changes I made.
Here is the layout of all the wires needed for standalone.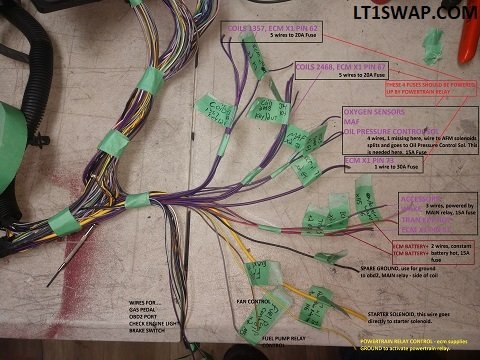 and after I've added the fuse block, obd2 port, bundled wires for APP.