This page goes over my 8.1L Vortec swap I put in my 67 C10 back in 2004. I don't have much specific swap details on this page, but wiring info is similar on this engine as the 4.8/5.3/6.0 info found HERE!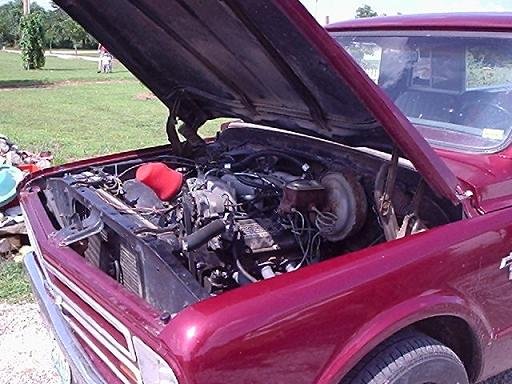 Update: 10/15/2004
8100 Destruction pictures are here!
I have ordered a camshaft to replace the stock piece in the 8100. It is a ZZ502 crate engine camshaft (GM# 12366543 $161.00 shipped). The duration at .050" is 224/234; and the lift is (intake/exhaust) is 527/544. Lobe separation is 110 degrees. This is a hydraulic roller cam, and should drop right into place of the stock one. The firing order will be changed back to the classic 1-8-4-3-6-5-7-2.
Along with the camshaft I have ordered new rocker studs, (ARP-135-7201 from www.summitracing.com $75.64 shipped!) The rocker studs will allow me to use a set of Harland Sharp 1.7 ratio roller rockers. These rocker studs are required as stock valve train uses net lash, non adjustable type. The studs have a M10x1.5 thread on the bottom, and 7/16x20 on the top, that will work with all 7/16 BBC adjust nuts.
Update: 10/31/2004
The ZZ502 camshaft is installed along with ARP rocker studs and aluminum roller rockers. I have some more tuning to do with the new camshaft and see if I can get the idle quality better with the lumpy camshaft! I also installed some Moroso valve covers to clear the rockers.
The Story: A friend of mine expressed interest installing a LT1 in his 1984 Mazda RX7. I told him I would be more then happy to help with the swap and the injection setup. Well a few weeks later I come across a 2001 Vortec 8100 engine for a very killer deal. I decided to sell my LT1 setup complete to my friend, and I bought the 8100.
The 8100 come without fuel rail's, injector's, or accessory brackets, along with other miscellaneous small stuff. I ordered all the missing parts from the Chevrolet dealership I was working at.
The 8100 block has the same motor mount points as early small and big block Chevy's. Only now all bolt holes use a metric thread. Even the heads shared the same exhaust flange pattern. I was able to use a set of hedders from Dynomax and they bolted right up! A Turbo 400 bolted right up the 8100 and the torque converted bolted right up to the stock 8100 flex plate. Even a stock starter for a 1977 Chevy small block bolted right up, cranks over fine. I have found excessive idling around town is heating up the starter. It doesn't always crank until it cool's down. I'm going to fabricate some kind of heat shield between the hedders and the starter soon.
I started looking at finding a wire harness and computer to control this beast. Because it was so new I could not find anything in any local junk yards, ordering new parts was going to cost over $1500 for PCM and harness alone! I started searching high and low on the internet and come across a very neat EFI controller called Megasquirt. View the webpage for information on what it is and what it does, they do a lot better at describing it then I want to go into detail here.
Spark for my 8100 is acquired from a Ford EDIS-8 Ignition Module (electronic-distributorless-ignition-system). Ford started using the EDIS-8 module early 90's in Lincolns. There are several different versions, EDIS4, EDIS6, EDIS8, for 4,6,8 cylinders. All use the wasted spark method. Some of the EDIS modules even have MSD, (multiple-spark-discharge) which is found in MSD Ignition systems. The EDIS-8 has a could operate independent from the factory EEC-IV ford computer. Ignition timing control was handed over the the Megasquirt with a few modifications.
Ignition timing control comes from the Megasquirt ECU. With a few very simple modifications to the Megasquirt ECU, I was able to control the ignition timing. The EDIS modules have a pin, that when pulsed at the right frequency, will vary the ignition timing from 10 ATDC, to 56 BTDC, based on the frequency produced by the Megasquirt ECU.
The Megasquirt ECU can be built for $160, another $60 for the relay/power board and ignition system which can be bought from a salvage yard for under $50, and a little wiring and a little time. I have a fully programmable Fuel and Spark controller. At a touch of the keyboard, while the engine is running, I can tune air fuel ratio, as well as spark timing. Megasquirt IS a closed loop EFI controller, using oxygen sensor feedback, compatible with common narrow band as well as wide band O2 sensors when used with a wideband controller!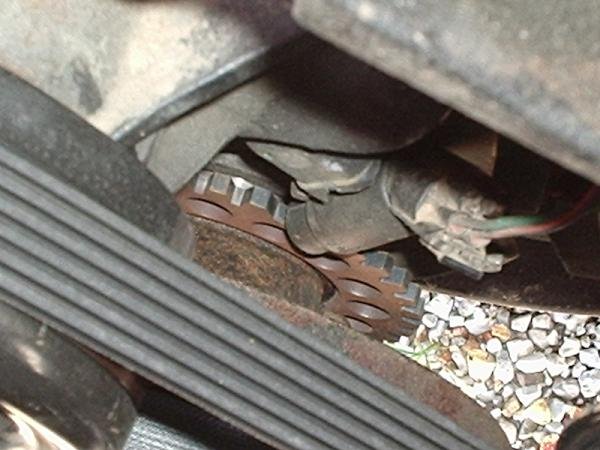 Crankshaft Sensor and 36 tooth wheel mounted to the harmonic balancer.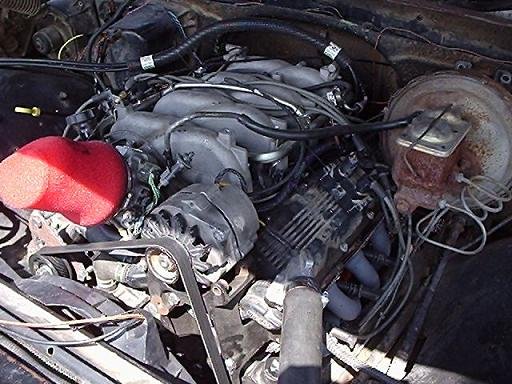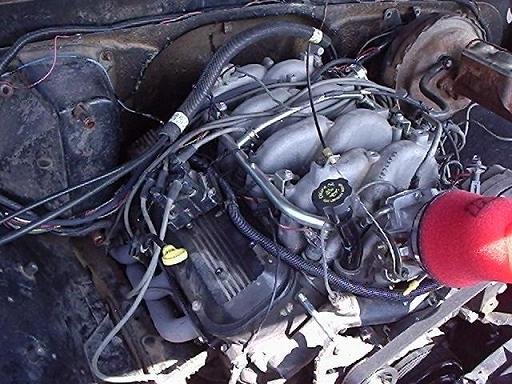 Pictured above you can see the Ford EDIS coil packs. I will be relocating the coil packs to the rear of the engine. I will then build custom plug wires to run to the spark plugs.
**** The ford coils are gone! I have replaced them with GM DIS coils. They are still being controlled by the Ford EDIS-8 module. This picture taken before I fired up the 8100 with the new cam. GM DIS coils on top of the intake, and MSD 8.5mm plug wires.
MegaSquirt ECU. Serial Port for laptop, 3 status LED's Relay & Power board. Simplifies wiring of the MegaSquirt
Below are links that I used to get my 8100 running with Megasquirt and EDIS system.
Ford EDIS Technical Information