Here I will go over a swap I completed on a 1998 C1500 pickup. It originally had a 4.3L Vortec and swapped to a 2005 5.3L LM7 with drive by wire. I will go over the way I did the harness integration to all factory functions on the 1998. AC, Cruise, all gauges, so on. I will be updating this and adding more detail, but for now I want to get a bulk of the pictures and pinouts up for people to see. The process for a truck with the 5.7L would be almost identical. The layout of the 5.7L harness may different from the 4.3L, but the process is the same. This page is not a step by step everything needed to do it. This is supposed to give you an idea of what to do with as much supporting material I can provide. You should possess some knowledge of automotive wiring and some understanding of gm wiring.
These are the PCM Pinouts for the 1998 4.3L PCM. Other years 1996-2000 will be similar, you will have to use your judgment. I am taking apart the stock 1998 4.3l harness and stripping everything from it I don't want to use. So all engine sensors, o2, throttle, injectors, egr, all will be removed from the 4.3l harness, including transmission. I will be keeping the 1998 neutral safety switch wiring, as this will keep the starter circuit, reverse lights, and PRNDL indicator on the dash working. This method will keep the 1998 fuse block. The process for the Gen3 Harness will be like my stand alone conversion. I will still build its own fuse block, the only difference, I will tie the fuel pump relay control from the Gen3 LS to the OBS / GMT fuse block. So the fuse block will only have 1 relay for KEY HOT circuits.
1998 ECM CONNECTOR PINOUT C1 BLUE TO 5.3L SWAP.pdf
1998 ECM CONNECTOR PINOUT C2 RED TO 5.3L SWAP.pdf
1998 ECM CONNECTOR PINOUT C3 CLEAR TO 5.3L SWAP.pdf
1998 ECM CONNECTOR PINOUT C4 BLACK TO 5.3L SWAP.pdf
Complete Engine control schematics for the 1998 4.3L engine/trans. V8 would be similar just two more injector connectors.
1998 4.3L C1500 Engine Control Schematics
This shows the pinout for the connectors I used to connect the 1998 OBS engine harness to the Gen3 LS harness. You can use whatever connectors you want with whatever pinout you want. This is just how I did it. You could just connect the wires directly by solider and heat shrink without a connector if you wanted to.
Connectors 98 OBS to LS Gen3 Harness.pdf
stock 1998 vortec engine harness
use 1998 pcm connector pinouts to remove wires for Gen3 conversion. Label wires wanted, remove everything else.
1998 engine harness stripped down for conversion to Gen3 LS
final changes to 1998 engine harness for Gen3 conversion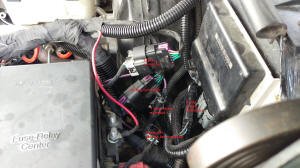 installed connectors to be able to seperate the 1998 from the Gen3 LS. Connectors for Cruise, Starter, and main harnesses and two pin factory 05 fans
using a 1998 6.5L Diesel gas pedal. Requires moving pins for APP1 until no codes.
ac low cycle switch part of original 98 engine harness
ac clutch, ac high cutout, and pressure sensor all on the Gen3 harness