Well I never thought I'd do it but I sold my Impala. I'll leave this section so all can see what I did.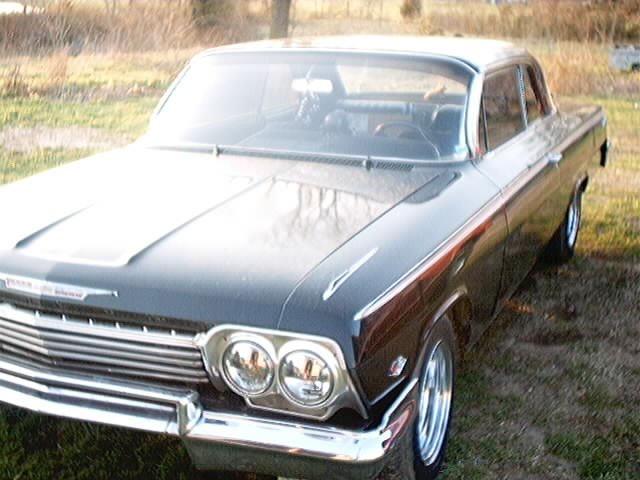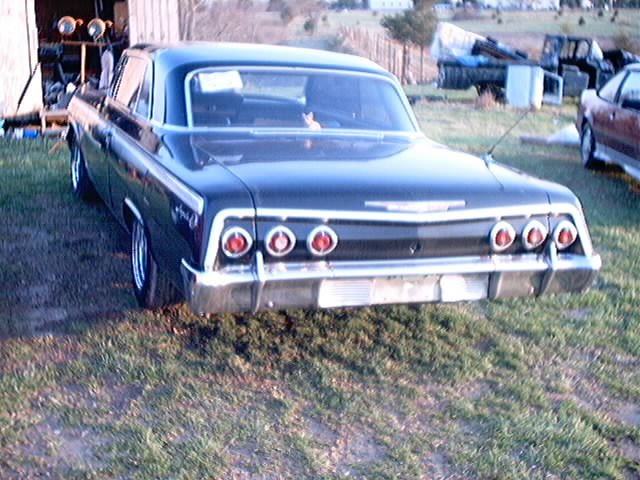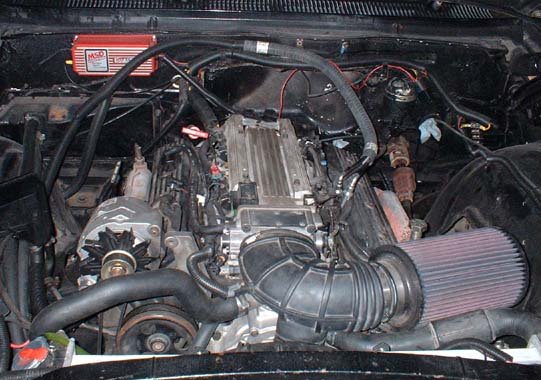 !!!!!!!!!!!!!!!!The LT1 is long gone, but here's how I did it below!!!!!!!!!!!!!!!!
COSTS: Here is what this project cost me, if I forget something I'll try to add it later!
Engine, Transmission, ECM, Harness - $750 - killer deal
Fuel Pump $80, Radiator $40, Fan $85.
Misc items including wire, fuse panel, fuel line, hoses ect $150.
Shop manual for both 1993 Camaro & 1962 Impala $150 - a must have
If time was money there'd be a lot more in it. I had the time to work on this project, I have many many hours in reading and tracing wire harnesses out wire by wire. I not only saved money by doing this but also learned a lot. If you have the time, do it, you will learn too.
I complete this project from information on the internet free to anyone, and the info in my shop manuals. I did not send off my harness to have it modified. I did all the work in this swap.
The motor is a 1993 LT1 engine with a 4L60/700R4 transmission. When I first got the computer and harness I knew I was in for a lot of work. I decided to try and repair the wiring harness then to fork out $400 for a Painless. The LT1 wasn't the only wiring problem I had. The car it's self had a lot of electrical problems. Thanks to Faxon Auto Literature, they sent me an original GM shop manual for my Impala. I pulled the engine harness, dash harness, and tail light harness. After a few hours I had the harness back in the car and all the electrical working!
**Note: I installed aftermarket cool blue headlamps in my car, the factory wiring cannot handle the increased amperage of these headlights. If you do the same, use relays to power your headlights. I first noticed the problem when my headlights would start flickering when I put them on high beams. the circuit breaker inside the light switch was getting too hot.
A lot of people are doing LT1 swaps into older vehicles. There is a lot of small stuff you will run into along the way. This is just some of what I ran into.
VATS, or Vehicle Anti-Theft System is GM's system to prevent hot wiring and theft of cars. There are two easy ways to bypass this system which have both worked for me. I built my VATS bypass circuit with a 555 timer IC from Radio Shack, my LT1 fired up and idled. For info on my VATS circuit I built, click here -> VATS Page Another solution, which I ended up using, is to find the VATS module from a wrecked F body. Again, visit my VATS Page for information on that as well.
Fuel System: LT1's take a lot more fuel pressure to work. I found a MSD-2225 EFI pump. Summit Racing sells the pump for about $79.00. An inline pump was a lot easier then trying to modify my fuel tank sender, but I did find it to be very noisy.
MSD-2225 Fuel Pump, $74.95 from Summit
I installed a new gas tank I ordered from Harmon's. I modified the sender unit to have a return line from the fuel pressure regulator. The pump was mounted inside the trunk. 7/16 steel line was used for the supply line, and was then spliced with LT1 factory nylon fuel lines. Fuel from the regulator returns to the tank via the original 1962 fuel supply line.
The 700R4 was 3 inches longer then the TH350 that was in my Impala. This was solved by removing 3" from the drive shaft. I was lucky and the transmission mount lined up with another hole, so it was all bolt up.
I now have the factory bracket for the alternator, power steering, and a/c unit on the car. I found a 1961 Impala at a salvage yard that had A/C and power steering, and I am hoping to use the factory 1993 pumps on the older systems. I will update on here as that progresses, summer is coming and I want A/C!
The PCM is mounted under the dash, and the fuse panel is mounted behind the glove box opening in the middle. I still have some cleaning up to do on the wires, but it'll be done soon!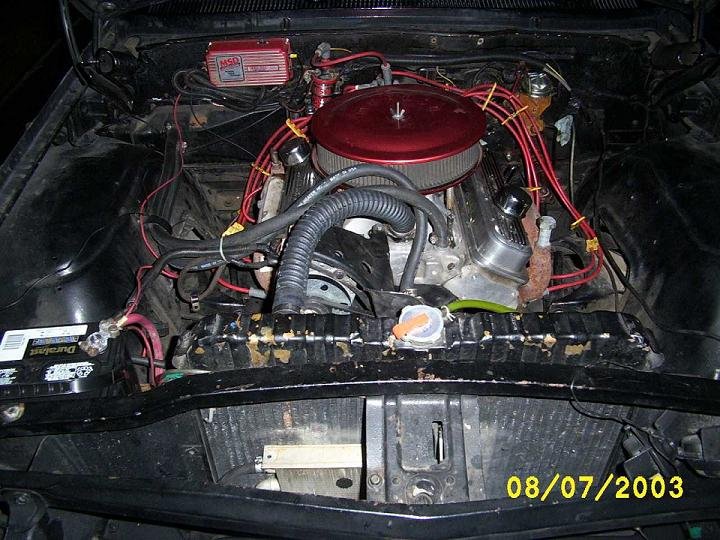 The manifolds are now gone, Headman Hedder's took the place of them. 2 1/2 inch exhaust into dual Flowmaster mufflers.
The Impala now is fitted with the 355 from my 67 pickup. The block is a 4-bolt 350 bored .030. Flattop pistons, Chevy Pink rods, and balanced crankshaft make up the rotation assembly. 8 quart Canton oil pan with a trap door and crank scraper, along with a HVHP oil pump makes up my oil system. A solid-lift cam (290/300 adv duration .578in .564ex lift), Crane Cam's roller tip 1.52 rockers, mounted on rocker arm studs and guide-plates. The cylinder heads are GM High Performance Corvette TPI Heads. They are Aluminum, and have 58cc combustion chambers and high flowing D shape exhaust ports. Angled sparkplug holes help get the spark to the center of the cylinder. The engine has a compression ratio of 10.5:1. All this power exits through headers and goes into 2.5 diameter aluminized pipe, into a set of Flowmaster 40 Series mufflers. Ignition includes MSD 6AL Ignition box, MSD 8.5MM Super Conductor plug wires, and a MSD Pro Billet Distributor.